Contact and Bookings
Please send your e-mail enquiries, or booking reservations to the following e-mail addresses below:
You will then deal directly with your host Richard.
We will endeavour to answer you within 12 hours.
or send us a fax message to fax number +62-362-41621
or phone us on +62 362 41388 or Richard's cell phone 08123811323
Postal address: PO box 195 Singaraja, Bali, Indonesia.
Hotel address: Rambutan, Kalibukbuk, Lovina, Bali, Indonesia.
Turn toward the beach at the traffic light intersection of Lovina- Kalibukbuk and we are the first hotel on the right.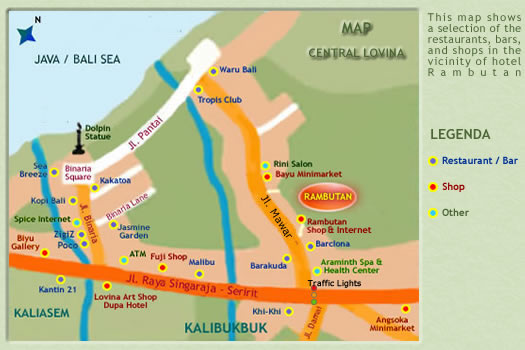 Please give us your preferences of room.
Ground floor or second floor.
Close to restaurant and pool, or in a more secluded area.
Pick up with tour required only USD 60,-
---
Hints for Indonesia
Indonesia gives most western countries a visa on arrival that lasts 30 days, which includes the day you arrive and the day you leave. You have to pay for this on arrival and it is best to bring the exact amount in USD cash and it is USD$25.00. You can however pay in other currencies but the exchange rate is very bad. You can apply for a 60 day visa before leaving at an Indonesian consulate or Embassy.
On arrival you need to first queue to pay for your visa and then head to the immigration counter. If you already have a visa then head straight to the immigration counter.
ATM's are readily available in major towns in Bali including lovina.
If catching a taxi from the airport, there is a taxi counter just outside the customs area where you can buy a voucher.
If you use an airport porter the price is 10,000Rp for one bag. They often try and ask for a very high amount so negotiate first.
Lovina is a 3 hour drive from the airport. If you want us to pick you up you are welcome to make it into a tour and stop off at the various places of interest.
When leaving Indonesia there is an airport tax of 150,000Rp per person and this must be paid in cash in the local currency.
---
share this page